Featured Projects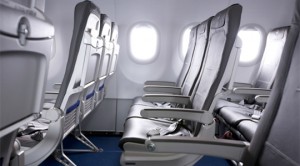 Airline Seat Lightweighting Study
Acme Mills' lightweight airline seating, woven, non-woven and needle-punched fabrics are integral components in producing top quality private and commercial textile solutions.
Acme Mills together with our partner company Fairway Products are experts in enhancing lightweight airline seating suspension using our patented Dymetrol® and ComfortSpan fabrics to replace traditional suspension systems. Dymetrol is used in private planes, jets and commercial jetliners currently, including many of the world's largest commercial airlines, where it provides efficient and comfortable lightweight airline seating solutions for pilots, crew and all passengers over millions of miles flown daily.
Due to its composite construction, which is the result of the combination of powerful elastomer monofilaments and high quality textile threads, Dymetrol and comfortSpan products boast a particularly impressive level of elasticity and an ability to regain its original shape reliably.
ComfortSpan Aviation Suspension Systems will reduce weight and increase comfort in airline seats.
Project : Airline seating case study - Dymetrol replacing traditional suspension
Task : Determine weight and seat depth savings
Executives : Steve Firavich, Mike Richardson, Jeffrey Gross, Neil Gross