Theatre Seating & Venue Seating
Theatre Seating & Venue Seating Applications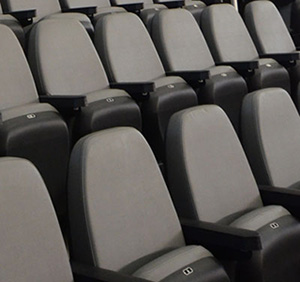 Acme Mills relies on Dymetrol® for our theatre and arena clients because it is the ergonomic suspension system for innovative seating designs. It gives an immediate shape recovery and ensures life-long comfort. While traditional suspension systems use high volumes of foam, Dymetrol® installations reduce foam volumes and still maintain seating comfort.We provide fabrics, suspensions and other components for a wide variety of furniture applications.
Applications:
Theater seating
Lecture hall seating
Stadium and arena seating
Seat suspension systems
Our woven, non-woven and needle-punched fabrics are integral components in producing top quality products economically.
Seat surfaces
Decking
Dustcover
Insulator
Pullstrips
Back and under lining
The material-related advantages of Dymetrol® can also be utilized in the design of seating furniture. Dymetrol® improves the quality of foam upholstery in chair seats and backrests due to its high levels of elasticity, shape reforming and support characteristics.